The bad news: Ctrl+Paint isn't going to be your source for learning anatomy. I only want to teach subjects that I feel totally comfortable with, and frankly... anatomy isn't one of them. The good news: anatomy is already very well documented! This post is going to become a 'living document' about anatomy instruction. I'm starting it out with a few of my favorites, and I'll add additional sources as I learn about them. Do you have a favorite? Send me an email or add it to the comments!
Constructive anatomy
Of the two major approaches to figure drawing, this is the technique designed for drawing from your imagination. In short, you break the body down into geometric forms in order to envision them from any possible camera angle. Illustrators, comic artists, and concept artists often work in this way because it is versatile and does not require exact reference. This type of drawing absolutely requires perspective drawing, so make sure you're comfy with that before you dive into the human form.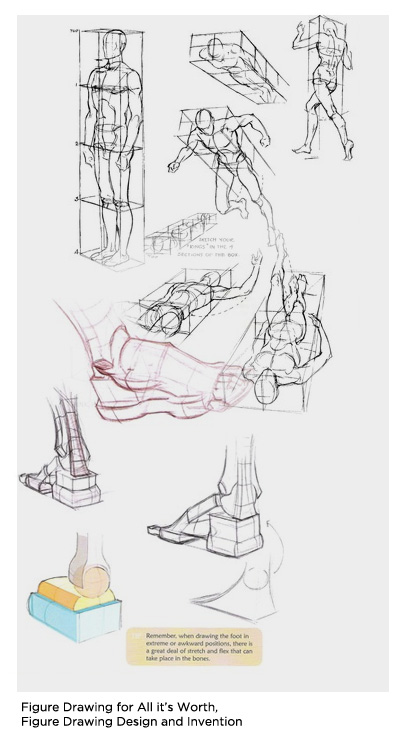 Why it's useful: It's versatile. If you're working with deadlines, you might not have the ability to find a model or shoot your own reference photos. It's also a great building block for stylized drawings and designing creatures, monsters, and dinosaurs. If you're able to simplify a human body, the same exact skills help you envision anatomy that doesn't exist in real life. Additionally, this skill helps in designing human-like creatures such as robots and some vehicles.
Where it falls short: Specific details. It's easy to fall into a "Barbie and Ken" trap in which you always draw your figures the same way. In order for this process to work you'll be simplifying the characters in your mind - creating a visual 'shorthand'. When rushing, this often leads to your characters looking repetitive. It's important to use photo reference for specific details like interesting haircuts, clothing styles, and faces.
Resources:
Figure Drawing Design and Invention by Michael Hampton - This book is fantastic. I've read a lot of books which help simplify anatomy into geometric pieces, but this is by far my favorite. Get it in print, not as a .PDF -- you're going to want this one on your desk at all times.
Andrew Loomis - I've mentioned him in previous videos, but he's worth mentioning again. This classic commercial illustrator amazing at simplifying the body into a formula. If you've ever read a "How to draw ____ characters" book, it's a bit like that.... but 1000 times more useful. Truly a master.
The Vilppu Drawing Manual by Glen Vilppu - He's a modern master following in the tradition of Andrew Loomis. I had the pleasure of attending a lesson with Glen and he's an amazing instructor. Not to be missed.
Observed Anatomy
The term "classical figure drawing", or observed anatomy, involves using a using a live model or photo as reference. If you go to art school, this is how you'll be introduced to anatomy. Artists have been working in this way for centuries, and it's a fantastic challenge for any skill level. This sort of classical painting and drawing are often used for fine art.
Why it's useful: Learning to see a person in front of you and transfer their likeness onto a page is priceless. There's a reason artists have been painting portraits in this manner for most of recorded history. Even if you don't use this for your commercial work, it's a fantastic way to practice and learn about the body.
Where it falls short: It's not nearly as versatile as constructive anatomy. If a comic artist needed to pose a live model for each panel of her comic page, she'd never finish the book. Used for more academic pursuits, drawing from life is generally a slower and less commercial process. Especially if you are working with larger than life settings like fantasy and Sci-Fi, observed anatomy can be impractical.
Resources:
The Artist's Complete Guide To Drawing the Head by William Maughan - This book is the best resource I've ever read on portraiture. He focuses on the shapes of shadows to achieve likeness... and... it works! Certainly a must read.
Do you have more resources to add? Let's hear about them in the comments! I'll be updating the post as time goes on.