As an artist it's worth considering film for more than it's entertainment value. PaintFlix is an ongoing series about beautiful movies found on Netflix streaming. These movies don't always have good stories, and I wouldn't fault you for watching them on mute. Bottom line: at $8 per month, Netflix streaming is a fantastic source of visual inspiration and I'd love to help with movie recommendations.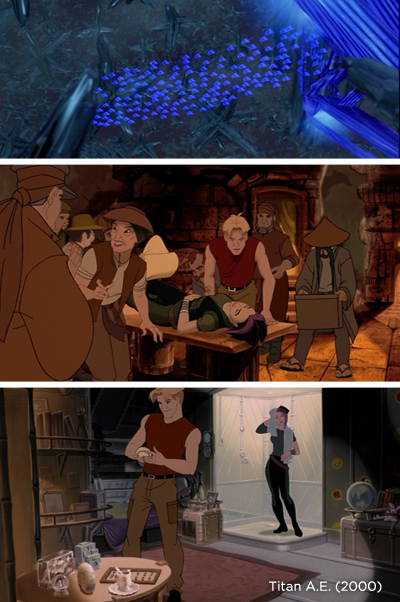 Titan A.E. (2000)
Are you a Star Wars fan? This is for you. Sure, this movie was a technical achievement for its time - but more importantly it is a sci-fi animated feature. Animated feature: period. As in...not strictly for kids. As a result the environments and themes are a bit grittier than your average animated children's movie.
What to watch for:
The "Color Story". Animated movies are great at using color to push the emotional undertones of their narrative. Since every color was painted by an artist, and not captured by a camera, it's all intentional. Make sure to see how each scene uses color to hammer home the current emotion.
The Backgrounds. If you haven't watched many 2D animated movies, you might not know that the backgrounds are actually hand-painted. This movie differs a bit by incorporating 3D elements, but most of what you see behind the characters are gorgeous gouache paintings. Want to work on your environment painting skills? Pause the movie and soak in the background .. it's a beautiful environment painting in every shot.
And when you're done watching:
Use the inspiration. Consider some of the techniques from the film studies series, and learn from this movie. Mood boards, composition sketches, color palettes... put "Titan A.E" to good use! I almost always leave the movie theater feeling inspired to create, but my schedule stops me from sitting down to paint. If you're able, plan in some extra time directly after watching to sit down and draw or paint. Have fun!